Maxine M. Weismann, 86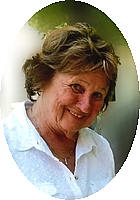 Richmond
August 7, 1937 ~ July 5, 2023
A Mass of Christian Burial will be held at 11:00am on Wednesday, July 12, 2023, at Sts. Peter & Paul Catholic Church in Richmond for Maxine M. Weismann, age 86, who died Wednesday, July 5 at the St. Cloud Hospital. Burial will be in the Parish Cemetery.
A visitation will be held from 4pm – 7pm on Tuesday, July 11 at the Wenner Funeral Home, Richmond. Visitation will continue Wednesday morning from 9:00 – 10:45 a.m. in the Sts. Peter & Paul Gathering Space.
Maxine M. Weismann was born on August 7, 1937, in Richmond, Minnesota to Anthony and Eleanor (Schulte) Abeln. She married Harold Weismann on September 15, 1956, in Sts. Peter & Paul Catholic Church, Richmond. Maxine worked for the Rocori School District in several locations. She was an avid gardener, quilter, crocheter, and knitter. Maxine loved the outdoors, especially at the cabin in Northern Minnesota where she hunted, fished, and loved spending time with family. She enjoyed traveling and exploring new places. She volunteered for many organizations including the American Red Cross and Sts. Peter and Paul Catholic Church. Maxine also held office for the City of Richmond. Maxine was a member of Sts. Peter & Paul Parish and Christian Women.
Survivors include her sons, Glenn (Sue), Gary; husband, Jerry Backes; grandchildren, Jeanien, Jennifer, Shane, Adam, Ariel; step-grandchildren, Sara, Steven; and 8 great-grandchildren.
She was preceded in death by her first husband, Harold; son, Dean; and grandson, Dakota.
Services are with the Wenner Funeral Home, Richmond, MN.