Jeanette Noll Toenies, age 94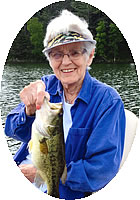 Cold Spring
April 18, 1929 – September 4, 2023
Jeanette Noll Toenies, the last remaining member of the Henry and Cecelia (Wheseler) Pundsack family, died peacefully September 4th, 2023, in Pine River, MN. She was 94 years old.
Jeanette was born in New Munich, MN and married Alcuin Noll in 1949. They made their home in Cold Spring, and she was an active volunteer with the St. Boniface Church and school. She was a member of the St. Boniface Christian Mothers Association and the Pine River 500 Club.
She married Gene Toenies in 1998, the marriage ended in 2017.
Jeanette was self-taught in many ways, becoming an excellent seamstress, making clothes not only for herself and her daughters, but also sewing and selling doll clothes for every Barbie-related doll. She took her driver's test in her 30's, earned her GED in her 50's, and worked until her early 80's.
She worked at the St. Boniface Parish House, Animal Farm and the Cold Spring Bakery. Among her many interests, she enjoyed fishing (winning the coveted annual family Bass Fishing trophy one year), camping, quilting, puzzles and playing cards. She was a savvy card player and often was suspected of mischievously changing rules mid-game to suit her. She accomplished what only a few ever did - having the perfect cribbage hand not once, but twice in her life. Becoming a grandmother was a tremendous joy for her; her grandchildren had the good fortune to grow up with a fun and spirited "Granny" to Sam and Anna and "Grandma" to Greg and Mark.
She is survived by her daughters, Diane (Steve) Norlin, Nancy (Nancy Zabel) Thomes, and 4 grandchildren: Sam (Tamara Harms) Norlin, Greg (Kelsey) Thomes, Mark (Katie) Thomes and Anna Norlin as well as 4 great-grandchildren: Hadlie, Zander, Emmalyn and Linus. She is also survived by her sisters-in-law, Delores Petermeier and Julie Noll and many nieces and nephews.
She was preceded in death by her husband, Alcuin Noll and all 14 of her siblings and their spouses.
Mass of Christian Burial will be at 11:00 a.m., Friday, September 8, 2023, at Saints Peter and Paul Catholic Church, Richmond, MN. The visitation will be Friday, 10:00 a.m. at the church.
In lieu of flowers, please donate to the charity of your choice.
Services are with the Wenner Funeral Home, Cold Spring, MN.