Rosella "Rosie" Decker Theis, age 90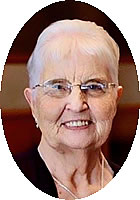 Cold Spring
August 29, 1932 - July 29, 2023
Mass of Christian Burial will be 11:00 a.m. on Monday, August 7, 2023, at St. Boniface Catholic Church, Cold Spring, MN for Rosella "Rosie" Decker Theis, age 90, who died July 29, 2023, at Assumption Home, Cold Spring, MN. Burial will be in the parish cemetery. The service will be live streamed at www.christcatholic.com.
Visitation will be from 9:00-10:45 a.m. on Monday at the church.
Rosie was born in Cold Spring, MN to Mathew and Theresa (Rausch) Decker. She married Elroy Theis on September 29, 1953, at Holy Cross Catholic Church, Pearl Lake.
Rosie loved her family, grandchildren, and great grandchildren. She enjoyed baking, dancing, traveling, playing cards, golfing, bowling, embroidery, making quilts and yodeling. She was a member of St. Boniface Parish, Catholic United Financial, and Christian Women.
She is survived by her husband, Elroy; children, Cliff (Sheila), Connie (Mike) Hoffman, Cathy (Craig) Low, Chris (Mike) Brinker, Corey (Geri); daughter-in-law, Julie Theis; son-in-law, Keith Wolbeck; 18 grandchildren; 38 great grandchildren; siblings, Richard (Evelyn) Decker, Barb Schmitz, and Theresa Thomas.

She is preceded in death by her parents; son, Chuck; daughter, Carla; grandsons, Darrin and Thomas; 7 brothers and 4 sisters.
Services are with the Wenner Funeral Home, Cold Spring, MN.