JoAnn R. Smoley, age 73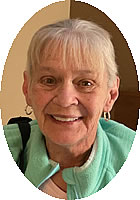 St. Stephen
July 20, 1950 – August 11, 2023
JoAnn (Rudolph) Smoley, age 73, passed away peacefully on Friday, August 11, 2023, at her home in St. Stephen, MN. She was surrounded by her husband and her children until her last breath.
Visitation will be held at 9:00 a.m. on Saturday, August 19, at St. Stephen Catholic Church in St. Stephen, followed by a Mass of Christian burial at 11:00 a.m.
JoAnn was born on July 20, 1950, in St. Cloud to Anton and Loretta (Rajkowski) Rudolph. She grew up on the family farm in St. Wendel with her two brothers and four sisters. She graduated from Holdingford High School in 1968, and on November 29 of the following year she married her soulmate, Lawrence Smoley. They spent 53 wonderful years together and built a family she loved unconditionally.
JoAnn served in many administrative roles throughout her working years. Her first job was as a foot messenger for IDS in Minneapolis and she later worked in the St. Cloud area for Fingerhut, National Mutual Benefit, and Park Industries. She retired at age 62, but not before going back to school to earn her Associate of Arts degree from St. Cloud Technical College–an accomplishment she was incredibly proud of.
JoAnn lived her life to serve and support others, never missing an opportunity to celebrate important events and accomplishments–from births and graduations to weddings and new jobs. She used her hobbies to spread joy–baking birthday cakes, cooking chicken dinners, sewing Halloween costumes, and crocheting baby afghans. She also enjoyed gambling with her sisters, reading mysteries, watching her grandchildren excel in athletics and the arts, and watching her children create successful lives and families of their own.
Above all else, she cherished being a mom and grandma–and her children and grandchildren absolutely adored her. JoAnn always had time to listen, encouraging words to share, and hugs to give. She radiated kindness and love and support, and she never ended a phone call without saying "I love you."
Survivors include her husband, Larry Smoley; children, Carrie (Pat) Hennes-Dargis, Bradley (Michelle) Smoley, Chad (LeAnn) Smoley, Stephanie (Jarrett) Swanson, Andrew (Andrea) Smoley; grandchildren, Bailey, Sydney, Madison, Aiden, Paige, Daphne, Kara, Kaylee, Hunter, and Jude; siblings, S. Donald (Arlene) Rudolph, Dolores (Elmer) Huls, Rita Johnson, Marie (Dave) Jendro, and Antoniette Rudolph; and her beloved mother-in-law Lavonne Smoley.
She was preceded in death by her parents, brother James Rudolph, and father-in-law Anton Smoley.
Arrangements are with the Wenner Funeral Home in Cold Spring, Minnesota.