JoAnn M. Schneider, age 64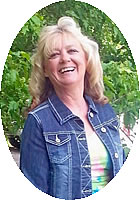 Montrose, formerly Rockville
April 4, 1959 – July 25, 2023
Funeral Services will be at 11:00 a.m. Friday, August 4, 2023, at Mary of the Immaculate Conception Church in Rockville, MN for JoAnn M. Schneider, age 64, who died peacefully with her daughters by her side. Tuesday at The Glenn in Buffalo, MN from frontal temporal dementia and multiple myeloma. Burial will be in Calvary Cemetery, Rockville, MN.
The visitation will begin at 9:00 a.m. on Friday at the church.
JoAnn was born in St. Cloud, MN to Gregor and Juletta (Dietman) Schneider. She was a graduate of ROCORI High School, class of 1978.
JoAnn adored her grandchildren and enjoyed spending time with her family. She enjoyed making crafts, was an excellent cook, loved gardening, canning and had a passion for horses. JoAnn loved to play banjo and other string instruments.
She is survived by her daughters, Angie (Todd Carlson) Schneider, Sarah (Ryan) Sodahl; grandchildren, Mackenzie, Samantha, Alyson, and Lukas; siblings, Elaine (JC) Velasco, Kathy (Howie) Syverson, Mark, Pat (Joe) Welle, Rose (Ed) Borman, and Mary (Brian) Feldhege.
She was preceded in death by her parents; siblings, Greg and Judy;
significant other, Chris Lundby; step grandson, Brandon.
Arrangements are with the Wenner Funeral Home, Cold Spring, MN.