Allen J. Schlangen, age 57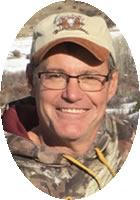 Richmond
September 29, 1965 – June 27, 2023
A Celebration of Life will be at 11:00 a.m., Thursday, July 6, 2023, at River of Life Church in Cold Spring, MN for Allen J. Schlangen, age 57, who died June 27, 2023, at Vibra Hospital, Fargo, ND.
The visitation will be 4:00-8:00 p.m. Wednesday at River of Life Church. Visitation will continue from 9:30-10:30 a.m. Thursday at the church.
Al was born in St. Cloud, MN to Reynold and Vernette (Reiter) Schlangen. He married Sheila Lemke on June 2, 1990, in St. Boniface Church, Cold Spring.
Al was the owner of Schlangen's Unlimited Building and Remodeling. He worked as a contractor and carpenter. Al let his creativity flow where it was allowed. He enjoyed hunting, fishing, hiking in Montana, always having fun and playing games, but especially spending time with his family and dogs.
He is survived by his wife, Sheila; children, Breann (Wade) Fischer, Alex, Kaitlyn; siblings, Ralph (Dianne), Dorie (Harry) Bertram, Eileen (Mike) Stang, Vic (Marlene), Rog (Brenda), Diane (Butch) Schwindel; granddaughter, Thea Fischer; in-laws, Ken Lemke, Kathy (Mike) Linn, Shirley (Gene) Linn, Judy (Terry) Krebs, Lori (Dave) Grabmeier.
He is preceded in death by his parents; brother, Vernon; in-laws, Harvey and Marcy Lemke.
Arrangements are with the Wenner Funeral Home in Richmond, MN.