Sherry Rollins, age 63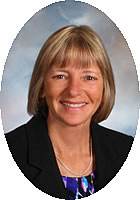 Cold Spring
February 5, 1960 - August 20, 2023
Mass of Christian Burial will be 11:00 a.m. on Friday, August 25, 2023, at St. Boniface Catholic Church, Cold Spring, MN for Sherry Rollins, age 63, who died Sunday surrounded by her family at the Methodist Hospital in Rochester, MN. Burial will be in the parish cemetery. The service will be live streamed at www.christcatholic.com.
A visitation will be from 4:00-8:00 p.m. Thursday at the Wenner Funeral home in Cold Spring and from 9:00-10:45 a.m. Friday at the St. Boniface Church Narthex.
Sherry was born in Breckenridge, MN to Reuben and Arlene (Klaphake) VanBeck. She married Tom Rollins on October 13, 1979, in St. Boniface Catholic Church, Cold Spring, MN.
Sherry worked for Cold Spring Granite for over 40 years. She loved her family, friends, and cherished her grandchildren. She enjoyed golfing with friends, canning, caring for her flower garden and spending time at the lake home. Sherry was a member of St. Boniface Parish and Christian Women.
She is survived by her husband, Tom; children, Rachel (Charlie) Goldberg and Adam (Tiffany); brothers, Russ (Sandy), Joe (Diane); grandchildren, Nora, Annie, Bennett, and baby Rollins.
She is preceded in death by her son, Aaron; parents and infant brother, Randy.
Services are with the Wenner Funeral Home, Cold Spring, MN.