Walter Reichert, age 90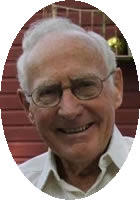 Richmond
September 20, 1932 – May 31, 2023
Mass of Christian Burial will be 12:00 Noon on Friday, June 9, 2023, at Sts. Peter & Paul Catholic Church, Richmond, MN for Walter C. Reichert, age 90 who died May 31, 2023, at home peacefully surrounded by family. Inurnment will be in the parish cemetery. The service will be live streamed at www.christcatholic.com.
There will be a visitation from 10:00 – 11:45 a.m. Friday in the church gathering space.
Wally was born in Richmond, MN to Edward and Marion (Chown) Reichert. He married Mildred Kramer on October 3, 1953, in St. Anthony Church, Watkins, MN. He served in the U.S. Army as a military policeman.
Wally and Millie owned Island View Resort in Richmond, MN for 21 years. Prior to that he worked for IDS Investments. Wally was an avid fisherman in Minnesota and Florida. He loved bocce, golfing and bowling, but mostly he loved his family.
He is survived by his wife, Mildred; children, Charles (Lynn), Nancy (Milo), Linda (Tom), James (Kathy); sister-in-law, MaryLou Reichert;14 grandchildren and 13 great grandchildren.
He is preceded in death by his parents; siblings, Thomas (Virginia), Edward, and Mary Alice Turner.
Services are with the Wenner Funeral Home, Richmond, MN.