Vernon A. Olson, age 101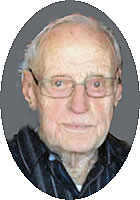 Richmond
November 5, 1921 – May 3, 2023
A Celebration of Life will be at 2:00 p.m. Saturday, May 20, 2023, at the Wenner Funeral Home in Richmond, MN for Vernon "Vern" Olson, age 101, who died May 3, 2023, at Assumption Home, Cold Spring, MN.
Visitation will start one hour before the service at the funeral home.
Vern was born in Clarkfield, MN to Lars and Serine Louise (Martinson) Olson. He married Rhea Kaeter September 15, 2004, in Brookings, SD.
Vern was the head of maintenance for the City of Clarkfield and then worked in the Twin Cities for twenty years. He was a hard worker, often working more than one job. Vern enjoyed gardening, staying busy, and was known as a "Mr. Fix It."
He is survived by his wife, Rhea; children, Linda Hendrickson, Curtis (Patricia), Wayne (Gail), Richard (Diane), Dale (Judy), Shari (Greg) Hultmann; stepchildren, Robert (Sondra) Jacobson; many grandchildren, great-grandchildren, nieces and nephews.
He is preceded in death by his first wife, Violet; siblings, Glen, Milford, Lawrence, Ordell, Walter, Opal, Edith, Marion and Lila.
Arrangements are with Wenner Funeral Home, Richmond.