Clarence P. O'Brien, age 90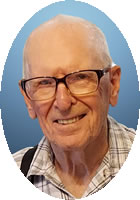 Richmond
July 11, 1933 – July 13, 2023
A funeral service will be at 10:00 a.m. Tuesday, July 18, 2023, at River of Life Assembly of God Church in Cold Spring, MN for Clarence P. O'Brien, age 90, who died Thursday at Missouri Slopes, Bismarck, ND. Burial will be in the MN State Veterans Cemetery, Little Falls, MN
Visitation will be from 4:00 – 8:00 p.m. Monday at the Wenner Funeral Home in Richmond. Visitation will continue from 8:30-9:15 a.m. Tuesday morning at the funeral home.
Clarence was born in Eden Valley, MN to James and Dorothy (Kottke) O'Brien. He married Lorraine Arnold on December 27, 1958, in Assumption Church in Eden Valley. Clarence served 20 years in the U.S. Air Force.
Clarence enjoyed playing cards, hunting, cars, fishing, time with family, traveling, camping and tinkering with anything that needed fixing.
He is survived by his children, Helen Berger, Janet (Bob) Ehresmann, Wanda (Mike) Cassidy, James,Glenn (Denise); 13 grandchildren and 12 great-grandchildren.
He was preceded in death by his parents; wife, Lorraine; siblings, Cele (Ben) Dold, Joe O'Brien, Jim (Myrtle) O'Brien, Lawrence (Doris) O'Brien, Dorthy (Tim) Miller, Frances (Virginia) O'Brien, Margaret (Ole) Hurd; sons-in-law, Duane Seelye and Paul Berger.
Arrangements are with the Wenner Funeral Home, Richmond, MN.