Stephen Anthony Muggli, age 84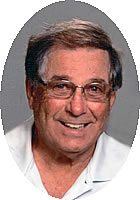 Cold Spring
July 10, 1939- August 9, 2023
Mass of Christian Burial will be 11:00 a.m. on Monday, August 14, 2023, at St. Boniface Catholic Church, Cold Spring, MN for Stephen Anthony Muggli. The visitation will be from 9:00-10:45 a.m. in the church narthex. Inurnment will be in the parish cemetery. The service will be live streamed at www.christcatholic.com.
Stephen Anthony Muggli (Steve) passed away peacefully on August 9, 2023, with family by his side, after a seven-year battle with cancer. Steve will be remembered as a loving husband and father and as someone who cared deeply about his country, community, and family.
Steve was born on July 10, 1939, to Stephen J and Martinella "Martz" Muggli. Steve and his four siblings grew up on the main street of Cold Spring in the family home and electric shop owned by his parents. Growing up, Steve developed his life-long love of fishing at an early age at the Cold Spring Dam and seeded his strong work ethic by helping his parents with projects in the home and business.
After attending St. Boniface Grade and High School, Steve went to St John's University and graduated with a degree in economics. In addition to some studying and part-time work for his father, including at the Abbey, Steve spent his college years playing the saxophone in the Marching and Concert Band as well as the Rock-n-Roll Band, The Elegants.
After graduating, Steve was commissioned as an Officer in the United States Army.
Steve served his country for 11 years; 2 years in active duty at Fort Benning, Georgia and Fort Leonard Wood, Missouri, and 9 years in the Army Reserve. His work as a Liaison Officer for Allied Officers and as a Basic Training Company Commander exposed him to different cultures around the world and showed him the great economic and social diversity of the youth in his own country. Steve's ability to connect with and lead others began during this time as he was able to bring these young people with very different backgrounds together as a unit to complete their basic training requirements.
During his time in the Army Reserve, Steve was a busy father of three girls, and he began working for his father's electrical contracting business on various jobs in the area. At the age of 34 years, Steve took over his father's business and incorporated Cold Spring Electric Services in June of 1973.
One of his first employees was Dale Stein, who was an exceptional person and mechanic with unbelievable energy and talent whose efforts assured the company would be successful. The company continued to grow and serve much of Stearns County because of the dedication and hard work of the office staff, including, Karen Schlangen, Delores Ressemann, Jim Habiger, and Pete Stein and the talented work of Field Formen Jerry Miller, John Miller, Mel Dyson, Steve Dingman, Brian Wallraff, Super Forman Dave Dingman, and so many others.
Steve was not only dedicated to keeping his business close to home, but he was also committed to contributing to the sustainability and growth of Cold Spring. Steve served as a City Council Member, a volunteer fire fighter, and was a Board Member of the First National Bank of Cold Spring. Steve also started the Cold Spring Community Fund, which contributed to the food shelf and playground equipment, among other local improvements. When it came time to sell the family farm west of Cold Spring, Steve signed a purchase agreement with the Cold Spring Granite Company in 1986, allowing the company to stay in the community where their headquarters remain today.
Steve met Lora Krueger in 1986, creating a bond that has lasted until the end of Steve's life. Steve and Lora married in St. Boniface Church on June 26, 1999. Together, they traveled to Canada and Alaska on remote fishing trips, had fun in the sun in Cancún and the surrounding areas, and lived a beautiful life together with many friends and family as snowbirds going between Big Fish Lake and Cape Coral, Florida. Steve always said that going between Minnesota and Florida meant that Lora could golf all year around. It also meant that he could fish year around.
Steve left this world knowing that he had a wonderful life, and he was grateful to every single person who was part of it.
Steve is survived by his wife Lora Muggli; his daughters Deborah Muggli, Cheryl Muggli, Monique (Peter) Muggli; his grandsons Mackinley Pearson-Muggli, Connor Muggli-Manson, Rowan Muggli-Manson; and his siblings Francis Muggli, Louise Muggli, Joanne (Alan) Peterson and Paula (Lon) Muggli. He was preceded in death by his parents Stephen J Muggli Sr. and Martinella "Martz" Muggli.
Steve's family would like to extend a special thanks to Dr. Jurgens and his team at CentraCare and the wonderful staff at Moments Hospice. Memorial donations will be made to the Coborn Cancer Center.
Services are with the Wenner Funeral Home, Cold Spring, MN.