Benedict "Jim" Mergen, age 90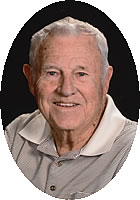 Cold Spring
March 3, 1933- July 27, 2023
Mass of Christian Burial will be 11:00 a.m. on Monday, July 31, 2023, at St. Boniface Catholic Church, Cold Spring, MN for Benedict "Jim" Mergen, age 90, who died Thursday at Quiet Oaks Hospice House. The service will be live streamed at www.christcatholic.com.
The visitation will be from 4:00-8:00 p.m. Sunday at the Wenner Funeral home in Cold Spring.
Jim was born March 3, 1933, in Farming, MN to John and Gertrude (Holthaus) Mergen, the last of eight children. He was raised in Farming and graduated from Albany class of 1950 and then from St. Cloud State with a teaching certificate in physical education. He married Darlene Machtmes in 1960 and they had three children, Randy, Dean, and Debbie.
Jim taught at Ortley, SD and then went on to work with the Veterans Administration as a recreational therapist in St. Cloud. He would move to New Jersey and then to Austin, TX, retiring as an analyst for the VA. Jim was a member of the Knights of Columbus.
As a lifelong baseball fan he played with the Farming Flames in his younger years (later inducted into the hall of fame), then played softball in NJ, TX, MN, and AZ where he pitched his last game at age 85. When too old to play baseball, he helped organize the Farming Flames golf tournament for over 12 years as well as the local dupas golf tournament and Mergen family golf tournament. Jim was a lifetime member of Optimist International, sheriff of the town of San LeAnna, TX and served a two-year term as mayor. Upon retirement he returned to MN and would spend time between Cold Spring, MN and Sun City, AZ.
He is remembered lovingly by his wife of 62 years, Darlene; children, Randy, Dean (Betty), Debbie (Bobby) Powell; 6 grandchildren and 6 great grandchildren.
He is preceded in death by his parents and seven siblings.
Services are with the Wenner Funeral Home, Cold Spring, MN.