Roger Michael Mehr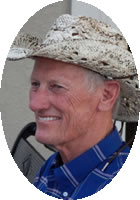 Twin Falls, Idaho
October 4, 1941 - August 23, 2023
Roger Michael Mehr passed away at his home in Twin Falls, Idaho on August 23, 2023. Roger was born October 4, 1941, in St. Martin, Minnesota, to John Mehr and Leona (Miller) Mehr. Roger grew up on his family's dairy farm near St. Martin. After graduating from Crosier's Seminary High School in Onamia, Minnesota in 1959, he completed training to repair electronic office equipment, working for IBM and other electronics firms in California and Wisconsin. Roger returned to Minnesota to farm, then was general manager of a large grain farm in North Dakota. Later, he spent several years with Gulf Oil training and working as an exploratory drill rig supervisor in Texas, Oklahoma, Utah, Wyoming, and North Dakota. Roger finished his work career as a long-haul truck driver, retiring in 2012. He would return to his first love, farming, in retirement, happily working spring and fall seasons for several years on a grain farm near Columbus, North Dakota, where he enjoyed making new friendships.

Roger is survived by his wife of fifty-nine years, Veneel (Klassen) Mehr, who he married December 18, 1963, in Glendale, California, his three sons, Theron (Kelly), Darrin (Michelle) and Jon (Marja), and his eight grandchildren, Hunter, Holden, Blake, Sam, Hannah Katherine, Ryan, Aiden and Brady. Roger is also survived by his siblings Betty (Harvey) Toenies, Janice (Bill) Schoenberg, Ralph (Ann) Mehr, Ruth Heitke, Karen (Gene) Thul, Louise Mehr, and Joyce Strodtman.

Roger was a curious and intelligent man, seemingly able to repair most any electronic or mechanical device. He was plainspoken and generous and appreciated a good joke. He enjoyed time with family and friends, was a voracious reader and a sharp card player. Roger was a loving husband, father, grandfather, son, brother, uncle, and friend who will be deeply missed.

Mass of Christian Burial will be held at 11:00 a.m. on Saturday, September 30, 2023, at the St. Martin Catholic Church in St. Martin, Minnesota. Visitation will begin after 9:30 a.m. on Saturday at the church. Entombment of his cremated remains will be in the St. Martin Parish Columbarium at a later date.
In lieu of flowers, memorial contributions may be made to the St. Jude Children's Research Hospital at https://www.stjude.org/donate/donate-to-st-jude.html.