Genevieve Ludowese, age 100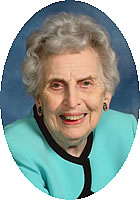 St. Joseph
February 27, 1923-June 21, 2023
Gen, age 100, was welcomed into the world on February 27, 1923, by her parents, Sylvester and Catherine Lang at their hillside farm near Richmond, Minnesota. The first of four girls, her days started early with cows to milk and chores to do before heading to school. After graduating at the top of her class from Eden Valley High School, she bought her first train ticket and headed to Minneapolis. Thanks to some savvy matchmaking by her aunt, Gen met and married the love of her life, Dick on June 6, 1950. Together they raised corn, soybeans, livestock and seven kids on their farm in Stewart, Mn. Following his unexpected death in 1976, she moved to Collegeville and began anew. We remember mom as she lived. Heading to mass, rolling out dough, grabbing her camera, working in her garden, playing another round of skit. The memories of her are sweet. She loved Christmas, the first day of the State Fair and bingo. Over the years, she sowed seeds and sewed her share of clothes. She wrote countless letters to the boys away at war and to her kids while away at school. She lived the times and recorded the changes in the scrapbooks and photo albums she cherished. For her, it was about feeling the love around her when family and friends gathered at her table and shared a meal that always ended with a piece of pie.
Gen is preceded in death by her parents, husband, Richard and sister, Shirley. She is survived by her children, Jim (Jeanne), Pat (Brad Ray), Mark (Joyce), Kay (Steve Klein), Brother Kevin OSB, Nancy and Carol (David Kaisaki); ten grandchildren, one great grandchild and two sisters, Mildred Geislinger and Sylvia Weber.
Her funeral will be held on Thursday, June 29 at St. John's Abbey Church, Collegeville. Rosary and visitation begin at 9AM. Mass follows at 11:30 AM.
Arrangements are with the Wenner Funeral Home, Cold Spring, MN.