Michael F. Liestman, age 72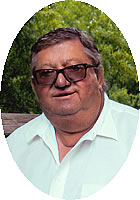 Cold Spring
July 21, 1951 – November 8, 2023
A funeral service will be Monday, November 13, 2023, at 1:00 p.m. at the Wenner Funeral Home in Cold Spring, MN for Michael F. Liestman, age 72, who died Wednesday, at his home. Burial will be in the St. Boniface Cemetery following the service.
The visitation will begin at 11:00 a.m. Monday at the funeral home.
Mike was born in St. Cloud, MN to Bernard and Jeanette (Jochum) Liestman. He graduated from ROCORI High School in 1969 and from St. Cloud Vo-tech in 1973. Mike married Pattie Liestman-Schmid in 1971 in St. James Catholic Church, Jacobs Prairie. They later divorced. He served in the U.S. Army from 1969- 1971 and was a proud Veteran of the Vietnam War.
Mike worked as a field service engineer for Dezurik from 1976-2013. He enjoyed fishing, happy hour, and loved Cadillacs. He was especially proud of his grandkids.
He is survived by his daughters, Tanya (Jim) Rieland, Darci (Geny) Ulloa; grandchildren, Brady (Jenna) Goebel, Taylor (Blane) Bornholdt, Elias Ulloa, Serehna Ulloa; great grandchildren, Wyatt and Quinn Goebel; siblings, Jean (Jim) Kirchner, Patrick Liestman, Laurie (Jim) Meyer, and John Liestman.
He was preceded in death by his parents.
Arrangements are with Wenner Funeral Home, Cold Spring.