Theresa Marie Larson (nee Von Holtum), 96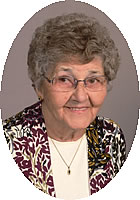 Cold Spring
June 22, 2023
Mass of Christian Burial will be held at 12: 00 noon on Monday, June 26, 2023 at St. Boniface Catholic Church in Cold Spring for Theresa Marie Larson (nee Von Holtum), 96, of Cold Spring. Theresa was surrounded by family as her beautiful soul went to heaven on June 22, 2023. Reverend Tim Baltes will officiate. Burial will take place in the parish cemetery.
Visitation will be held from 4:00 p.m. until 7:00 p.m. on Sunday and after 10:30 a.m. on Monday at the gathering space at St. Boniface Catholic Church in Cold Spring. Parish prayers will be held at 6:30 p.m. on Sunday at the Church. Arrangements are with the Daniel Funeral Home in St. Cloud.
Sometimes angels walk among us.
This one's name was Theresa Marie Larson.
The 3rd of 9 children to Henry and Martha Von Holtum of Lismore, MN, she was born with the heart of a true caregiver. With her strong but gentle nature, she helped raise her siblings while she discovered her love of baking.
Married to Robert Larson in 1947, they farmed in Iona, MN and started their own "bakers dozen". The first 8 of their 13 children were born while on this farm.
They moved nearby to Wilmont, MN in 1958 where they owned the café and bowling alley in town. Theresa propped babies on the pool table to keep her eye on them while she cooked and baked her way through feeding their customers. She delivered the final 5 of her baker's dozen while in Wilmont. She may have been little, but you could never underestimate her ingenuity and determination!
The majority of the family moved to Cold Spring, MN in 1969 and increased the town's population by 12. While her kids attended school, Theresa continued to feed the community her brand of goodness in many ways; as a cook at Rocori High School, an active member of St Boniface Church, a volunteer at the middle school and the Senior Center. And of course, she'd bake for them all! The town affectionately referred to Theresa as 'The Cookie Lady', as she handed out buckets of cookies (literally ice cream buckets J), bread, pies, bismarks and more. She was well-known for her generosity and kind spirit, which was reflected when she won the Hometown Pride Award in 2007.
She was highly organized by sheer necessity and had a place for everything (a junk drawer Martha Stewart would love) but also embraced the times when life came before order. If maybe the house could use vacuuming, she'd instead choose to be in the stands at Rocori wrestling meets cheering on her own kids or someone else's and vacuum later. If the grass wasn't perfectly manicured that week it's because "I'm not raising grass, I'm raising children."
She has a few too many begats to list, but today her kids and their spouses, grandkids, great grandkids and great-great grandkids total over 100. She was in her happy place when any one of her family were with her, but the more the better. Imagine how many times she heard someone call out "Mom" or "Grandma" in her lifetime!
Grandkids (and great and great-great) were definitely the icing on her cake! She ''grandkid-sat'" as many as possible, attended every grandchild's graduation, called on their birthdays, knew each of their favorite cookies (or bread or caramel rolls) by heart and always made sure there were some in the freezer when they showed up. She'd always tell them "Just put in your order" before they visited.
She was devoted to her children but she also filled every corner of her life with people to care for: her siblings, her church, her neighbors, her grandkids, her friends, her kid's friends, her friend's kids, strangers who became friends (e.g., the Schwan's delivery person, the postal delivery person, the person she spoke to in the produce section…you get the picture). She often just sensed when someone needed help and quietly reached out her hand.
Her house and her heart were always open to anyone in need, a revolving door of people in different stages of their lives who she welcomed into her home with open arms; children with sick parents, a college student or a new employee to a business in town who needed a place to stay, providing daycare in a pinch. She was always just there, a constant, comfortable resting place. She loved unconditionally and sometimes just being with her was good for the soul.
She led by example and without fanfare. She held on to her faith and her sense of self in the worst of times and not only taught her kids to do the same, but anyone else who took notice.
While her loss in our family's lives feels huge, we could all benefit from caring for people the way she humbly and genuinely lived her life. Be someone's angel, lead by example, hold on to your faith, be selfless in your generosity…and bake (or whatever you do best) to your heart's content!
Those who left us before Theresa: her parents, husband, brothers Paul and Dick, sister Ramona, son Greg, daughter Becky, and grandchildren Gus, Josh and Keith.
Those left to smile at her memory: Siblings - Mary Munns, Rita Von Holtum, William (Norma), Clarice Forrette, Tom (Dorothy). Children - Steven (June), Carol Noon, Mary Jo Remakel, Peter (Janet), Gail (Paul) Nierenhausen, Kevin, Robert (Jane), David (Sharon), Dan (Deb), Scott (Nicky), Todd (Rose). Daughter-in-law - Janee, 25 Grandchildren, 39 Great grandchildren and 3 Great-great-grandchildren.
In lieu of flowers, please donate in her memory to:
Quiet Oaks Hospice Home, 5537 Galaxy Rd, St. Augusta, MN 56301 https://quietoakshospicehouse.org/donate/ or the National Multiple Sclerosis Society. https://www.nationalmssociety.org/Chapters/MNM and click Donate.