Larry G. Johnson, age 83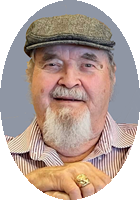 Cold Spring
February 21, 1940 – March 2, 2023
Funeral Services will be held at 3:30 p.m., Sunday, March 12, 2023, at Peace Lutheran Church, Cold Spring, MN for Larry G. Johnson, age 83. He went to be with Jesus on Thursday, March 2, 2023, at Assumption Home, Cold Spring. Inurnment will be in the Garden of Peace Cemetery, Cold Spring, MN, Monday, March 13, 2023, at 2:00 p.m.
Visitation will be from 1:00-3:15 p.m. on Sunday at the church prior to the Service.
Larry was born at the Swedish Hospital in Minneapolis, MN to Harvey and Fern (Stevenson) Johnson. He married Jolene M. Tonga April 10, 1960, in Albert Lea, MN.
He worked at his Fathers' Coast to Coast Hardware store in Albert Lea, MN through his high school and Technical School education. He attended Brown Institute in Minneapolis, MN, graduating in 1972. After graduating, he accepted a job with GE Medical Systems and transferred the family to Moorhead, MN, where he traveled to hospitals and clinics around NW Minnesota and all of North Dakota installing and maintaining X-Ray, MRI and CT Scan equipment. In March of 1977 his job brought him to Cold Spring, MN where he built his dream home on the Lake and Golf Course. Larry retired from GE Medical in 1995. From 1977 – 2009, he worked part time at Richmond Marine in Richmond, MN. Larry also loved to travel! He and Jolene wintered down south (Florida, Texas, Arizona) from 1977 – 2017. During the Summer months they would camp; they have traveled to all 50 states and camped in 48 of them. Spending time at the Cabin in Side Lake, MN and camping with his grandchildren brought him the most joy! Every year with each of the grandchildren they would go for 7-10 days. He was a proud member of the American Bowling Association and GMC International and was an avid bowler. He has bowled 4 – Perfect '300' games during his bowling career. For many years he travelled all over the Country bowling in the National Bowling Tournament.
He is survived by his wife, Jolene; children, Randy, Jorrie (Rocco) Frucci, Janell (Todd) Bauer; grandchildren, Josh (Lynette), Adam (Amber) and Isaac Bauer, Mario (Claire), Ryan (Paige), Lia, and Luke Frucci; great-grandchildren, Chevelle, Gaige, Aiden, Adelynn, Roy, and Ryleigh.
He was preceded in death by his parents, sister, Renee Petersen, and infant twin brother, Gary.
Larry's family would like to thank Assumption Home and St. Croix Hospice for their loving care.
Arrangements are with Wenner Funeral Home, Cold Spring.