Veronica Janssen, age 86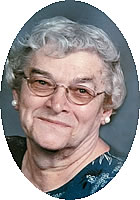 Farming
September 30, 1936 – July 26, 2023
Mass of Christian Burial will be 11:00 a.m. Saturday, July 29, 2023, at St. Catherine's Oratory in Farming, for Veronica Janssen, age 86, who died peacefully Wednesday at The Mother of Mercy Nursing Home in Albany. Burial will be in St. Catherine's cemetery.
The visitation will be from 4:00 – 8:00 p.m., Friday, July 28th at the Wenner Funeral Home in Richmond, MN. Visitation will continue on Saturday one hour prior to the funeral at the church.
Veronica was born in Roscoe, MN to Herman and Caroline (Meyer) Koetter. She married Valerian Janssen June 24, 1961, in St. Agnes Catholic Church in Roscoe.
Veronica and Valerian farmed east of Farming for many years. She enjoyed square dancing, playing cards, bowling, embroidery, baking, and bingo. She was a member of Catholic United Financial and St. Catherine's Oratory.
Survivors include her children, Linda (Don) Theisen, Duane (Karen Schefers), Mary (Loren) Tritabaugh, Theresa Janssen (Bill Robertson), Ron, Kevin (Michelle Gavlak), Carl (Pam), Alan (Allison), Kathy, Robert (Tanya), Tim; 16 grandchildren; 4 great grandchildren; sister, Irene Rausch.
She was preceded in death by her parents; husband, Valerian; brothers, Ervin, Herbert, Othmar, Roman, John and sister, Luella Seifermann.
Arrangements are with the Wenner Funeral Home, Richmond, MN.