Ralph A. Heinen, age 86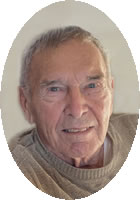 Cold Spring
September 6, 1937-October 25, 2023
The family of Ralph Heinen of Cold Spring is saddened to announce his passing on Oct. 25,2023 at the St. Cloud Hospital. Visitation will begin at 9:00 a.m. Thursday, November 2, 2023, at St. James Catholic Church, Jacobs Prairie, MN. A Mass of Christian Burial will follow at 11:00 a.m. Interment will be in the parish cemetery at a later date.
Ralph was born in Cold Spring, MN to John and Teresa (Weyland) Heinen. He married Helen DeWenter July 11, 1962, at St. James Catholic Church in Jacobs Prairie. He served in the U.S. National Guard.
Ralph was an enterprising man, building a successful poultry business in partnership with Helen. Later, converting the existing buildings into a storage unit business. Throughout life Ralph enjoyed water skiing, boating, dancing, bowling, hunting, traveling, and driving school bus. Mostly, he enjoyed spending time with his family at their home on Big Fish Lake that he and Helen built after they married.
He is survived by his wife, Helen; children, Karen (Chris) Chopp, Kim (Tim) Burnett, Ken (Kim), Kevin (Julie Ludwig), Keith, Kurt (Jen); 16 grandchildren; 5 great grandchildren and brother, John (Irma).
He was preceded in death by his parents; brothers, Eugene, Linus, and Celestine.
Arrangements are with Wenner Funeral Home, Cold Spring.