LaVonne "Vonnie" Hedman, age 80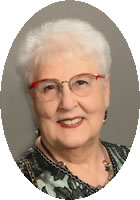 Cold Spring, MN
December 3, 1942 – September 26, 2023
A funeral service will be held at 11:00 a.m. Monday, October 9, 2023, at Peace Lutheran Church in Cold Spring, MN for LaVonne "Vonnie" Hedman, age 80, who died peacefully at home September 26, 2023, surrounded by her family. Inurnment will be in the Mamrelund Cemetery, Pennock, MN.
A visitation will be from 4:00-7:00 p.m. Sunday, October 8, 2023, at the Wenner Funeral Home in Cold Spring. Visitation will continue Monday one hour prior to the service at Peace Lutheran Church.
Vonnie was born in Willmar to Clarence and Florence (Boike) Klinghagen. She married Jerry Hedman in Mamrelund Lutheran Church, Pennock, MN.
Vonnie was a homemaker; she also did upholstery and crafts out of her home. She enjoyed wintering in Arizona and traveling with Jerry.
She is survived by her children, Kelly Flaschberger, Brian (Karen), Brad (Suz-Anne); sister, Marilyn Bass; brother, Dean (Linda) Klinghagen; in-laws, Ron (Marcy) Hedman; 8 grandchildren and 7 great-grandchildren.
She was preceded in death by her husband, Jerry (2023); parents; siblings, Larry, Linda, Leon, Lee, Darleen; in-laws, Robert, Dale, Phillis, Elmer, Pat, Jim, JoAnne, Jerry, Chester, Norman, Dorthy, Bill, Red, and Gail.
Arrangements are with Wenner Funeral Home, Cold Spring.