Eugene "Gene" Harter, age 69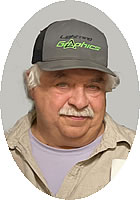 St. Joseph
August 21, 1954 – August 21, 2023
A Celebration of Life will be at 11:00 a.m. Thursday, August 24, 2023, at the Wenner Funeral Home in Richmond, MN for Gene Harter, age 69, who died Monday at the St. Cloud Hospital. Burial will be in the St. Joseph Parish Cemetery, St. Joseph, MN.
The visitation will be from 9:00-10:45 a.m. Thursday at the funeral home.
Gene was born in St. Cloud, MN to Wilfred and Clara (Zahler) Harter. He married Jeanne Thomes on September 27, 1975, in St. Agnes Catholic Church in Roscoe, MN.
Gene's family was most important to him, and he was extremely proud of his grandchildren. He loved to travel, play cards, and his flower garden. Gene worked as a boilermaker, on a paper machine at Verso Paper Mill, and was a welder for Pipefitters Union until retirement.
He is survived by his wife Jeanne; daughters, Sheila (Troy) Kraemer, Andrea Harter; grandchildren, Izzy, Trey, Riley, Ben; siblings, Dick (Marie) Harter, Jim (Ruthy) Harter, and Laura Olson.
He was preceded in death by his parents and sister, MaryAnn Winkelmann.
Arrangements are with Wenner Funeral Home, Richmond, MN.