Rose E. Goebel, age 88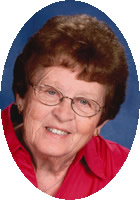 Maple Grove
December 16, 1934 – January 30, 2023
Mass of Christian Burial will be 11:00 a.m. on Saturday, February 4, 2023, at St. Boniface Catholic Church, Cold Spring, MN for Rose E. Goebel age 88, who died Monday. Burial will be in the parish cemetery. The service will be live streamed at www.christcatholic.com.
Visitation will be from 9:00 – 10:45 a.m. in the church narthex prior to the service.
Rose was born in New Munich, MN to Leo and Marie Schaefer. She married Art Goebel on November 5, 1955, in Sts. Peter and Paul Catholic Church, Richmond, MN. Rose worked at the St. Cloud JC Penney store in the stockroom.
Rose had a love for canning, gardening, quilting, embroidery, fishing, reading, and playing dominoes. Her four grandchildren, Conor, Patrick, Jennifer, and Bradley and great-grandchild, Archer were the love of her life. Rose enjoyed planting pumpkins for them, baking and decorating cookies during the holidays and playing dominoes. She was a member of St. Boniface Parish.
She is survived by her daughters, Sandy (Bernie) Herron and Cindy (Bruce) Malwitz; grandchildren, Conor (Erin) Herron, Patrick Herron, Jennifer Malwitz and Bradley Malwitz; great-grandchild, Archer Herron; siblings, Irene Manuel, Allen Schaefer, Ralph Schaefer; many nieces and nephews.
She was preceded in death by her parents; husband, Art; siblings, Robert and Donnie Schaefer.
Services are with the Wenner Funeral Home, Cold Spring, MN.