Ronald W. Daniels, age 54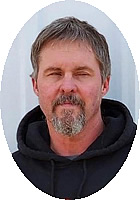 Watkins
June 7, 1968 – January 5, 2023
Mass of Christian Burial will be 1:30 p.m. on Monday, January 9, 2023, at St. Boniface Catholic Church, Cold Spring, MN for Ron W. Daniels, age 54, who died unexpectedly Thursday at home of natural causes. Burial will be in the parish cemetery. The service will be live streamed at www.christcatholic.com.
Visitation will be Sunday, January 8, 2023, from 4:00 p.m. –7:00 p.m. at Wenner Funeral Home in Cold Spring, MN. Visitation will continue Monday from 11:30 a.m.– 12:30 p.m. at the funeral home.
Ron was born in Fayetteville, AR to Ronald D. and Edith (Keppers) Daniels. He graduated from ROCORI High School Class of 1986. Ron served in the U.S. Army.
Ron worked at Farm-Rite Equipment Inc. in Dassel, MN. He loved the outdoors, was an awesome dad and phenomenal cook. Ron had a big heart and was always willing to lend a helping hand to anyone in need. He was a member of the Patriot Guard and former member of the Kimball Fire Department.
He is survived by his fiancé, Tanya Akerson; son, Parker; stepchildren, Dakota Elmore, Kierra Elmore; mother, Edith; siblings, Ken (Laura), Steve (Tammy), John (Trang), Mary (Gordon) Schrubbe, Joyce, Clara, Roy (Tina), and Susie; many nieces, nephews, great nieces, and great nephews.
He is preceded in death by his father, Ron.
Services are with the Wenner Funeral Home, Cold Spring, MN.