Karlene C. Daniel, age 77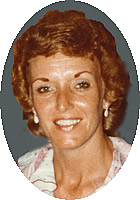 Cold Spring
July 25, 1945 – February 10, 2023
Mass of Christian Burial will be 11:00 a.m. on Friday, February 17, 2023, at St. Boniface Catholic Church, Cold Spring, MN for Karlene C. Daniel, age 77, who died Friday February 10, 2023, at home surrounded by family. Inurnment will be in the parish cemetery. The service will be live streamed at www.christcatholic.com.
There will be a visitation from 9:30 a.m.- 10:45 a.m., Friday, in the church narthex prior to the service.
Karlene C. Daniel was born in Richmond, MN to Albert and Marguerite (Hilbert) Peters. She married Loren D. Daniel August 20, 1966, in St. Boniface Catholic Church, Cold Spring, MN. Karlene graduated from St. Boniface High School and was a member of the marching band. Following high school, she graduated from beautician school.
Karlene enjoyed horses and the derby, Big Fish Lake, Pinehurst, and ceramics. She was a natural mom and felt fortunate to be a stay at home mom.
She is survived by her husband, Loren; daughters, Lori Thompson, Becky (Mark) Hobday, Kristi Carter (Steve Gerdes); sons, Jason (Jamie), Bryan (Brittany); grandchildren, Brittany, Brandon, Paige, Tyler, Lucy, Zoey; nieces and nephews.
She is preceded in death by her parents; siblings, Mary Zenner and Tom Peters.
Services are with the Wenner Funeral Home, Cold Spring, MN.