Jennifer A. Cahoy, age 71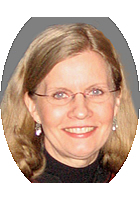 Cold Spring
January 31, 1952 – April 17, 2023
Jennifer Ann Cahoy (71), passed away peacefully at her home in Cold Spring, MN, with her husband Bill and her three children, David, Paul and Anna by her side.
Jennifer was born on January 31, 1952, to Ardee and Eunice Johnson in Fargo, ND. Jennifer is a graduate of Moorhead High School where she met her husband Bill in 1968. She went on to graduate from Concordia College in 1974 where she played clarinet in the concert band and earned a degree in Elementary Education.
Later that year, she and Bill were married in Moorhead, MN. They lived in Connecticut, North Carolina and Denmark before returning to Minnesota in 1981. Bill and Jennifer remained the most important people in each other's lives for their 48 years of marriage, which was filled with adventure, laughs, compassion, joy, friendship and most of all a deep love and respect for each other.
Jennifer was a curious, humble, fun, generous person who enjoyed pouring herself into everything she did. She was a loving wife and mother who raised her children with unwavering love and support. She loved to cook, travel, be outdoors, play games with her family and spend time with her grandchildren. After working as a teacher and running a daycare, Jennifer spent 25 years in various administrative roles at St. John's University.
Jennifer will be deeply missed by her husband Bill, children David (Nancy), Paul (Bre) and Anna (Ryan), her siblings Bruce (Shirley), Cindy (Steve) and Mark (Ronda), her grandchildren Mason, Bennett, Alexandra, Molly, Sydney, John and Finley, as well as cousins, nieces, nephews and many loving friends.
The funeral service will be held at 10:30am, Wednesday April 26, 2023, at the St. John's Abbey/University Church in Collegeville, MN and will be preceded by visitation from 9am – 10:30am at the same location.
In lieu of flowers, memorials can be sent to Saint John's School of Theology.
Arrangements are with the Wenner Funeral Home, Cold Spring.