Renee B. Buerman, age 86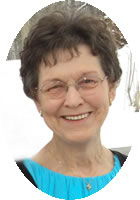 Cold Spring
April 20, 1937- June 27, 2023
Mass of Christian Burial will be 11:00 a.m. on Friday, June 30, 2023, at St. Boniface Catholic Church, Cold Spring, MN for Renee B. Buerman, age 86, who died Tuesday, at the St. Cloud Hospital. Burial will be in the parish cemetery. The service will be live streamed at www.christcatholic.com.
There will be visitation from 4:00-8:00 p.m. Thursday at the Wenner Funeral home in Cold Spring. Visitation will continue Friday from 9:30-10:45 a.m. at the St. Boniface Church Narthex.
Renee was born in Cold Spring, MN to Frank and Magdalena (Schreifels) Theis. She married Clarence Buerman on June 25, 1958, at St. Boniface Catholic Church, Cold Spring, MN. Her final wish was to celebrate their 65th wedding anniversary on Sunday with the entire family and we were able to honor her wish.
Renee was the strongest, bravest, sweetest lady to grace this planet. She meant the world to us. She was a wonderful wife, mother, grandmother & great-grandmother. We would look forward to her famous potato salad every summer holiday. She was well known for her chow mein noodle hotdish. Renee worked as an insurance analyst for CentraCare for 23 years. She organized and led the St. Boniface Parish Prayer Line for many years. Renee loved to travel in the motorhome, read, play cribbage, and play Skip-Bo with her grandchildren.
She is survived by her husband, Clarence; children , Jeff (Ann), Sandee (Chuck) Lindberger, Ron (Peggy), Brenda (Bruce) Price; daughter-in-law, Patti Buerman; siblings, Julie Vossen, Lee Schmal, Angie Gohman, Del Torborg, Elroy (Rosie) Theis, Rich Theis, Ray Theis; grandchildren, Stephanie, Ryan, Aaron, Jason, Brian, Keith, Abby, Neal, Alena, Ross; great-grandchildren, Adysen, Lakelyn, Gavin, Reagan, Treysen, Graeme, and Gracie.
She is preceded in death by her parents; son, Bruce; siblings, Jerry Theis, Bernie Garding, Marie Vossen and Irene Boor.
Services are with the Wenner Funeral Home, Cold Spring, MN.