Susan L. Berg, age 69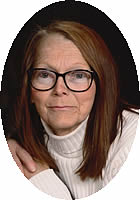 Richmond
April 21, 1954 – June 28, 2023
Mass of Christian Burial will be 11:00 a.m. on Friday, July 7, 2023, at Sts. Peter & Paul Catholic Church, Richmond, MN for Susan L. Berg, age 69. Burial will be in the parish cemetery. The service will be live streamed at www.christcatholic.com.
The visitation will be from 4:00-7:00 p.m. Thursday at the Wenner Funeral Home in Richmond, MN. Visitation will continue on Friday from 9:00-10:15 a.m. at the funeral home.
Susan Leslie Berg, age 69, passed away peacefully in her Richmond home with her children Matthew and Andrea at her side. Sue was born on April 21,1954, in Robbinsdale, MN to Ervin and Dorothy Peterson. She graduated from Robbinsdale High School and married her high school sweetheart, Bruce Berg, on September 14,1974 at Sacred Heart Catholic Church in Robbinsdale. She later graduated from Minneapolis School of Nursing and pursued her career for 22 years.
Sue was a woman of profound spirituality and prayer who lived her last 35 years with dignity and grace as a quiet "suffering servant." None of us ever heard her complain of her many chronic health issues and countless hospitalizations. She was meek, gentle, kind and loving to all she met. She was an enormous support and advocate to Bruce's AA commitment. As a life-long Catholic, Sue was comforted by her abiding faith and attended Mass up until the last. She also attended many family events when she knew her time was short. It was important for her to be with the family she loved, especially her grandsons.
Sue was welcomed to her eternal life by husband, Bruce; daughter, Sarah; parents and other relatives whom she loved.
Sue is survived by her son, Matthew; daughter, Andrea (Jesse) Kollmann; grandsons, Sawyer and Simon Kollmann; brothers, Jerry (Yvonne) Peterson, Bill (Mary) Peterson; sister, Karen Ross; brothers-in-law, Duane (Pam) Berg, John Berg; sister-in-law, Joan (Peter) Bednarczyk; many nieces, nephews and precious companion, Reggie.
Sue will be remembered for many things: her trust in Jesus, her gentle ways, clear blue eyes, "peaches n' cream" complexion and her love of dogs.
"Many women are good wives, but you are the best of them all. Charm is deceptive and beauty fleeting, but a woman who honors the Lord will be praised. Give her credit for all she does. She deserves the respect of all."
Heartfelt thanks to special friend, Amelia Schmitz, Centra Care Hospice, Chaplain Chris and Deacon Larry.
Services by Wenner Funeral Home.