Clara I. Schueller, age 85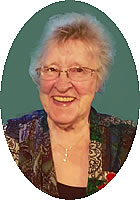 Richmond
June 13, 1936 – May 19, 2022
Mass of Christian Burial will be 11:00 a.m. on Tuesday, May 24, 2022, at Sts. Peter & Paul Catholic Church, Richmond, MN for Clara I. Schueller, age 85, who died Thursday, May 19 at Assumption Home. Burial will be in the parish cemetery. The service will be live-streamed at www.christcatholic.com.
There will be a visitation from 4:00 – 7:00 p.m. on Monday evening at the Wenner Funeral Home in Richmond. Visitation will continue from 9:00 – 10:30 a.m. Tuesday morning at the funeral home.
Clara was born on June 13, 1936, in Roscoe, MN to Roy and Anna (Lehan) Driver. She married Norbert Schueller on July 6, 1957, in Sts. Peter & Paul Catholic Church, Richmond, MN. Clara enjoyed knitting, crocheting, playing farkle, reading romance novels, baking bread, and sitting by the campfire. She had a great sense of humor and loved spending time with her family and grandchildren, you never left without a hug and kiss from Clara. She was a member of Sts. Peter & Paul Parish and Christian Women.
She is survived by her husband of 65 years, Norbert; children, Pat (Dale) Nelson, Brenda Denn, John (Vicki) Schueller, Rich (DeeAnn) Schueller; daughter-in-law, Lisa Schueller; 13 grandchildren; 8 soon to be 9 great-grandchildren.
She is preceded in death by her parents; son, Jerry; infant daughter, Jean Marie; and her siblings.

Services are with the Wenner Funeral Home, Richmond, MN.