Sally A. Wendt, age 63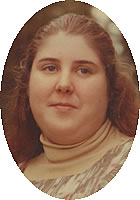 Cold Spring
April 2, 1958 – September 2, 2021
Inurnment will be 1:00 p.m. Tuesday, September 7, 2021, in the Maine Prairie Cemetery for Sally A. Wendt, who died September 2, 2021. Sally was born in Elmhurst, IL to Raymond and Joanne (Sykes) Wendt.
She is survived by her sister, Patricia (Gilbert) Michalski, nieces, and nephews.
She is preceded in death by her parents.
Arrangements are with Wenner Funeral Home, Cold Spring.