Jesse James Thelen, age 43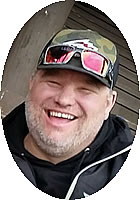 St. Martin
January 6, 1978 – December 27, 2021
Mass of Christian Burial will be 11:00 a.m. Wednesday, January 5, 2022, at St. Martin Catholic Church in St. Martin, MN for Jesse James Thelen, age 43, who died December 27, 2021, in Montana. Burial will be in the parish cemetery.
Relatives and friends may call from 4:00 p.m. – 8:00 p.m., Tuesday, January 4, 2022, at the St. Martin Parish Center in St. Martin. Visitation will continue from 9:00 a.m. – 10:30 a.m. Wednesday morning at the St. Martin Parish Center.
Jesse was born January 6, 1978, in Albany, MN to John and Carol (Schneider) Thelen. He married Jody Burg October 10, 2003, in St. Martin, MN. They have a son, Mitchell, who was his pride and joy. Jesse enjoyed snowmobiling, dirt-biking, anything that involved being at a track, playing baseball, golf, hunting and tinkering on anything he could find. He loved spending time with family, friends and picking on his nieces and nephews. Jesse loved trucking and everything that came with it. He was a self-employed trucker with Thelen Trucking and he loved the open road.
Jesse is survived by his wife, Jody; son, Mitchell; parents, John and Carol Thelen; brother, Jacob Thelen; grandma, Marion Thelen; father and mother in-law, Rich and Sue Burg; brothers-in-law, James Burg, Jake (Angie) Burg; sisters-in-law, Janelle (Chris) Harlander, Joan (Jake) Dick, Jenna (Jimmy) Thull; many nieces and nephews.
He is preceded in death by his sister, Emily Thelen; grandparents, Freddie Thelen, Werner and Flo (Urbasich) Schneider.
Arrangements are with the Wenner Funeral Home, Richmond, MN.