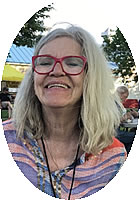 Blaine
Linda Tannenbaum Regretfully passed away on May 27th, 2021.
Linda was born in Paynesville, MN and resided in Blaine, MN.
As described by a friend: "Linda's the one that walked into a room and everybody noticed her. Style, grace, class, warm & silently fierce were just some of her qualities." She loved to laugh, she loved to dance, she loved art and loved to paint; she loved music, even though she did not play any musical instruments she was the Vice President of the Minnesota Blues Society; she loved to learn; she loved dogs. She loved her children, her grandchildren, and her brothers and sisters. Linda also came to love and be part of her husband's family as well. Linda was a voracious reader who loved her Kindle more than anything.
Her career spanned being a chemical dependency counselor, a social worker, a practicing attorney, and a professional dog walker/sitter. Linda knew she had to work but wanted to be sure it also helped people. Linda was part of the Sober Recovery community with over 38 years clean and sober.
Linda is survived by her husband of 32 years, Barry Tannenbaum; her son John Velasquez, his fiancé Kristina Quello, and her daughter Angela Velazquez. She is also survived by her sisters and brothers; Margaret-Peg (Jeff-Turk) Mackedanz, Lois (Paul) Lieggi, Charles-Chuck (Michelle) Schulte, Frederick-Fritz Schulte, Nicholas-Nick (Joan) Schulte, James-Jim (Nanette) Schulte, Richard-RG (Susan) Schulte, Peter-Pete (Julie) Schulte. Also survived by lots of in-laws, nieces and nephews and grandnieces and nephews as well as numerous cousins and amazing caring friends.
A memorial service will be held on Saturday, June 5th, 2021 at ARTISAN CHURCH (1105 117th Ave NE, Blaine) at 2 PM with visitation one hour prior.
www.kozlakradulovich.com
"A Celebration of Life"
763-783-1100