Thomas J. Stein (T.J.), age 78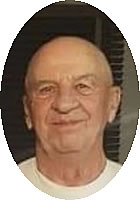 Gillette, WY
August 12, 1942 - May 28, 2021
Thomas J. Stein (T.J.) passed away peacefully in Sundance, Wyoming on May 28, 2021 at the age of 78. TJ was born August 12, 1942 at his parent's house in Cold Spring, MN. He lived there with his parents Joseph Frederick Stein and Katherine Rose Salzer Stein. In May 1960 he joined the U.S. Air Force. He was stationed at Minot A.F.B. ND. There he married Beverly Jean Feland. They had three daughters, Tamie, Tracy, and Ardelle. He spent a year and a half overseas in the Philippines, Thailand, Vietnam, and other places over there. He was discharged in September of 1967 and they returned to Antler, ND. He worked ranching with his Father in Law, oil field building locations, driving semi, and owning three semis. Beverly and he divorced. He later married Karen L. Pederson with two sons and two daughters who became the joy of his life along with his three daughters. In 1976 Karen gave birth to their son Michael. His niece was living with them, so it made a household of 10 at times. In 1977 Karen got a job offer from Gillette, WY to teach. The pay was almost four times what she was making in ND, so they moved. In WY TJ worked for M&G Oil field, Holeman Diesel, Interstate Diesel, and five coal companies. He also joined the National Guard and retired after eighteen years as First Sergeant.
TJ is survived by his Brother Joseph (Pam) of Belview, NE. Sister Peg Morgan Kingman, AZ. Sister Judy Heinen Sauk Rapids, MN. Sister Lois Gaetz (Steve) ST. Cloud, MN. Brother Charles St. Cloud, MN. Son Michael Stein Moorcroft, WY. Daughter Tami (Tim) Klein Ozark, NC. Daughter Tracy Minot, ND. Daughter Ardelle (Lynn) Schmidt Antler, ND. Stepson Kirk (Pam) Brownfield Hendersonville, NC. Stepdaughter Kristi (Dan) Trunk Sundance, WY. Stepdaughter Kendra Brownfield (Robert Birkle) Casper, WY. Stepson Kirby (Jill) Brownfield West Columbia, SC. 14 Grandchildren and 14 Great Grandchildren.
TJ loved fishing, hunting, camping, and Nascar but his family always came first.
No service is planned at this time. Memorials and condolences may be sent in care of Gillette Memorial Chapel 210 West 5th Street, Gillette, WY 82716.