Marie P. Schmid, age 92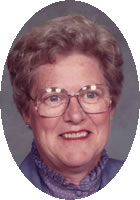 Rockville
March 26, 1928 - March 9, 2021
Mass of Christian Burial will be 10:30 a.m., Tuesday, March 16, 2021 at Mary of the Immaculate Conception Church in Rockville, MN for Marie P. Schmid, age 92, who died Tuesday at Assumption Home. Burial will be in the Assumption Cemetery, St. Cloud, MN. Those attending the services must maintain social distancing and wear a mask.
Visitation will begin at 9:00 a.m. Tuesday morning at the church.
Marie was born in New Ulm to Raymond and Willibalda (Eibner) Huelskamp. She married James a. Schmid June 23, 1952.
Marie graduated from the St. Cloud School of Nursing in 1950. She was an RN for the Union Hospital in New Ulm and later worked for Dr. Louis Wittrock until her retirement. She was a very gracious woman who loved to crochet, play cards, and entertain friends.
Survivors include her daughter, Jennifer Pearson; grandchildren, Sean and Whitney; great grandchildren, Connor, Kiara, Killey, Colton, Calia; step great grandchild, Will.
She was preceded in death by her husband, Jim; son, Robert; siblings, Ray, Willibalda Seifert, William, and Margaret Donohue.
Arrangements by Wenner Funeral Home.