Kathleen Minkley, age 96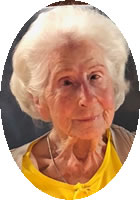 Rockville
September 17,1925 - November 22, 2021
Mass of Christian Burial will be 11:00 a.m., Friday, January 7, 2022, at Mary of the Immaculate Conception Church in Rockville, MN for Kathleen Minkley, age 96, who died November 22, 2021, in Newport Beach, CA surrounded by her family. Burial will be in Calvary Cemetery, Rockville, MN.
Kathleen was born in St. Cloud, MN to Joseph and Clara (Warner) Schwindel. She married John Minkley in 1951 in Chicago, IL.
Kathleen worked as a government secretary, enjoyed playing golf, and was a devout Catholic who loved her family. She was a member of St. John Vianney Chapel, Balboa Island for 60 years.
Survivors include her children, Susan Naylor and John Minkley (Jr.); sister, Marie Peckskamp; 6 grandchildren and 4 great-grandchildren.
She was preceded in death by her husband, John Minkley (Sr.).
Arrangements are with the Wenner Funeral Home, Cold Spring, MN.