Joerg John Koltes, 49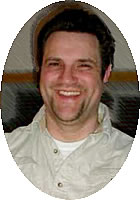 Fort Wayne, IN, formerly of Fulda, Germany
December 1, 1971 - October 22, 2021
Mass of Christian Burial will be 11:00 a.m. Saturday, November 13, 2021, at St. Boniface Catholic Church in Cold Spring, MN for Joerg John Koltes, age 49, died at Lutheran Hospital in Fort Wayne, Indiana. Inurnment will be in the Holy Cross Cemetery in Marty, MN.
A visitation for Joerg will proceed mass Saturday morning in the St. Boniface Church Narthex one hour prior to services.
Joerg was born December 1, 1971, son of John William Koltes and Sonja (Giebson) Koltes. He grew up in Fulda, Germany. Joerg enjoyed his time in Germany while his dad was stationed in the U.S.Army. Joerg's passion was traveling throughout Europe, as far north as Norway to as far south as Italy.
He graduated from high school in Germany in the mid 1990's and fulfilled his wish to move to the United States at the time. Joerg first moved to Dover, Delaware and shortly after settled in the twin city Fargo, ND/Moorhead, MN where he attended classes at North Dakota State University in Computer Science. Later in life he continued his education at Rasmussen College with classes in Online/Cyber Security and Network Programming.
Throughout his life, Joerg followed his passion of computer science, spent much time with his parents, brothers, aunts, uncles and cousins and he followed his passion of German traditions and German food. Joerg enjoyed cooking recipes from his childhood and was passionate in making everyone laugh ever since he was a child. Joerg continued traveling throughout the United States to visit relatives and explore new places.
In 2020, Joerg moved to Indiana, as he enjoyed the flair of the city and it reminded him of his first years living on the east coast. Shortly prior to moving there, he married Melissa Akason from Fort Wayne, Indiana. Unexpectedly, Joerg's heart health declined rapidly and Joerg passed away on October 22, 2021 after a few days in the hospital in Fort Wayne, Indiana.
He is survived by his wife, Melissa Akason; mother Sonja Koltes of Fulda, Germany, brothers Frank (Maren) Koltes of Lake Park, MN and Michael Giebson of Bruchmühlbach-Miesau, Germany; niece Chloe Koltes of Lake Park, MN; aunts and uncles, Hans-Jürgen (Christine) Giebson of Berlin, Germany, Hannelore (Edgar) Knappe of Fulda, Germany, Sr. Louise Koltes of St. Cloud, Donna Koltes of Richmond, MN, Mary (James) Molitor of Mesa, AZ, Katherine Counter of Avon, William Koltes of Watkins, Ann (Marvin) Salzer of Cold Spring, Rosalie Culbertson of Park Rapids , MN and Stephen (Lennie) Koltes of Cottage Grove, MN and many of his beloved cousins.
He was preceded in death by his father, John W Koltes, brother Siegfried (Sigi) Giebson; grandparents, John and Magdaline Koltes; Erich and Elisabeth Giebson; aunts Theresia Giebson and Margaret Koltes; uncle Michael Koltes, Bruce Culbertson, Robert Hansen, Oliver Counter and Harold Och.
Joerg is deeply missed by his family and friends.
Services are with the Wenner Funeral Home, Cold Spring, MN.