Douglas G. Erhard, age 69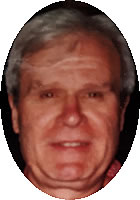 St. Cloud
December 14, 1951 – January 5, 2021
A Memorial Service will be held at a later date for Douglas G. Erhard, age 69, who died January 5, 2021 at the St. Cloud Hospital from complications of Covid.
Doug was born in Minneapolis to George and Shirley (Beito) Erhard. He worked for ECM in Princeton until his retirement. Doug enjoyed watching the Vikings, Twins and the Yankees. An avid reader who read many books each week and especially enjoyed history.
He is survived by his mother, Shirley; son, Jacob; grandson, Braydon; sisters, Judy (Tom) Bechtold, Cheryl Gunderson, Pat (Gene) Hesse, Jan (Dan) Minke, Sarah (Dennis) Mruz; Dan Killian, Matt Killian (Annie's sons), Violet and Hunter Killian (Annie's grandchildren); many nieces, nephews, great-nieces, great-nephews; cousins, aunts and many friends.
He was preceded in death by his father, George and partner, Annie Winskowski.
Arrangements are with Wenner Funeral Home, Cold Spring.