Jerome Eischens, age 79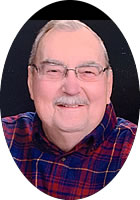 January 7th, 1942 - April 30, 2021
On Friday April 30th, Jerome Eischens, loving husband, father, grandpa, great grandpa, brother, uncle, and friend to many, passed away at the age 79.

Jerome Eischens was born January 7th, 1942 in Minneapolis, MN to Donald and Delores (Neuenberg) Eischens. He attended school in Eden Valley, MN; he went on to honorably serve in the United States Navy. He met the love of his life, Rosemary Frable while stationed in New Jersey. Shortly after meeting, they were united in marriage and to this marriage brought four wonderful boys.
Jerry worked as a automotive technician for several years before opening his own repair shop, Richmond Tire and Auto. Upon his retirement, he sold the business to his oldest son. Jerry enjoyed fishing, bowling, watching the Minnesota Vikings, Gophers and NASCAR. He especially enjoyed spending time with his family and fur babies, nights at the race track watching his son race, and attending any events his grandchildren were involved in. When not cheering on his favorite sport's teams, you could find him out in his garden tending to his many vegetables and sharing the fruits of his labor.
After 79 years of life and 56 years of marriage, Jerry is survived by his wife Rosemary, sons; Don (Sue) Eischens, Jerry Jr (Julie) Eischens, Dave (Shelly) Eischens and Jim (Zayna) Eischens. He is also survived by 9 grandchildren; Mat (Lori), Chris (Allison), Mackenze, Breanna, Sydne, Jace, Hailey, and Kiara Eischens. Great grandchildren; Landon, Maya, Madisyn and Liam. Sisters; Mary, Pat, Cathy, Carol and brother Mike. He was preceded in death by his dad Donald, mother Delores, step-dad George, and brother in law Bob.