Brady Curtis Cotton, 38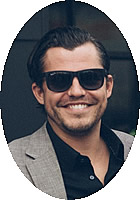 Formerly of Cold Spring
April 3, 1983 - July 14, 2021
A Gathering of Family and Friends will be from 4:00 p.m. until 9:00 p.m. on Wednesday, at the Daniel Funeral Home, St. Cloud, celebrating the life of Brady Curtis Cotton, 38, formerly of Cold Spring who passed away unexpectedly on July 14, 2021. Private interment will take place at a later date.

Brady was born on Easter Sunday morning, April 3, 1983 at the St. Cloud Hospital. He graduated from Cold Spring ROCORI High School in 2001, attended Gustavus Adolphus College and graduated with a BA in 2005. He lived in the Uptown area of Minneapolis and worked as a sales manager for Maverick Wine Company based out of Bloomington.

As we grieve the devastating loss of our dear son, brother, uncle, cousin and friend, we cling to the countless wonderful memories we have with Brady. We cherish his creativity, his passions and his fun-loving personality and the memories will stay with us forever.

Brady is survived by his loving family: parents, Dr. Curt and Karen Cotton; brother, Brandon (Erin); sister, Dr. Kelsey (Matt) Milbert; nieces, Margot, Elise and Karin Milbert, who filled his heart with immeasurable joy. He also left behind his sweet, devoted dog, Olive; and many aunts, uncles, cousins and friends.

In lieu of flowers, memorials are preferred to the Mayo Clinic for research programs embraced by the family.