Robert "Bob" Lenzmeier, age 56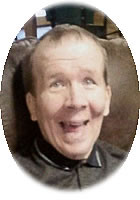 Brainerd
December 19, 1962 - July 14, 2019
Robert "Bob" Lenzmeier, age 56, of Brainerd passed away unexpectedly on Sunday, July 14, 2019 at St. Cloud Hospital surrounded by his loving family.

Mass of Christian Burial will be at 10:30 a.m. Friday, July 19 at Holy Cross Catholic Church in Pearl Lake. Fr. Ron Weyrens will officiate. Burial will be in the parish cemetery. Visitation will be held from 4-7 p.m. on Thursday and one hour prior to the service on Friday, both at the church. Parish prayers will be at 4 p.m. on Thursday.

Robert Edmund Lenzmeier was born December 19, 1962 to Mickey and Carol (Laudenbach) Lenzmeier. Bob was raised on his parents dairy farm, north of Kimball, and graduated from Apollo High School in 1984. Bob worked very hard on the farm and his work ethic and dedication was the main reason his parents could continue to farm for so long. Bob loved the animals on the farm, especially the cows and dogs. After leaving the farm, Bob lived in St. Cloud for a period of time before moving to Staples, MN in 2005. He moved to Brainerd in January 2019. Bob was employed by Wacosa, Inc., Browerville DAC, LEO in Pillager, and Employment Enterprises Inc in Little Falls. Among the things he enjoyed most was going to the Dairy Queen and his Mom's homemade bread.

Survivors include his siblings, Lois of Pleasant Lake, Louis of Plymouth, Linda (Bob) Kunkel of Pearl Lake, Michael (Bonnie) of St. Cloud, Mary (Greg) Mueller of Pearl Lake, Joseph (Coreen) of Crystal, and David (Frankie) of Minneapolis. Nephews Justin and Mitchell Kunkel, Jake, Andy Alex, Austin, and McEwen Lenzmeier. Nieces Hannah Kunkel, Grace, Abby, Sophia, Gabriella, and Arabella Lenzmeier.
Bob was preceded in death by his parents, sister LuAnn Lenzmeier, and niece Jordan Lenzmeier.
Memorials are preferred to Employment Enterprises Inc and/or Wacosa.
Bob's family wishes to thank all of Bob's wonderful caregivers through the years specifically at REM-Stephens Way in St. Cloud, Oakwood Terrace in Staples and Clark Lake Homes in Brainerd.
Obituary, Guestbook & Video Tribute online at www.dingmannfuneral.com