Aloysius "Al" Symalla, age 86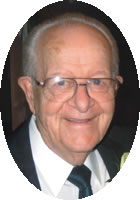 Cold Spring
June 16, 1931 – March 20, 2018
Mass of Christian Burial will be 1:30 p.m. on Monday, March 26, 2018 at St. Boniface Catholic Church in Cold Spring, MN for Aloysius "Al" Symalla age 86, who died Tuesday, at Assumption Home surrounded by his family. Burial will be in the parish cemetery.
A visitation will begin at 11:00 a.m. Monday at the church.
Al was born in Morton, MN to Thomas and Lenora (Eutenauer) Symalla. He married Donna Kuebelbeck on February 14, 1953 in Waukegan, IL. Al served in the US Navy from 1951-1954. He worked as a barber for 60 years. Al enjoyed fishing, gardening, and assisting in the construction of his children's homes.
Survivors include his wife, Donna; children, Ellie (Ken) Hondl, Val (Allan) Ferche, Joe (Ann), Cheri (Ron) Kraemer, Lori (Dave) Schlangen, Nick (Ann); brother, Jerry (Jean); 14 grandchildren, 12 great-grandchildren and one on the way.
He was preceded in death by his parents; 2 brothers and 2 sisters.
Arrangements by Wenner Funeral Home.