Arnold F. Statz, age 90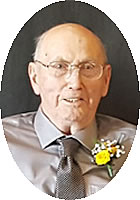 Richmond
July 7, 1928 – October 26, 2018
Mass of Christian Burial will be 11:00 a.m., Wednesday, October 31, 2018 at Sts. Peter & Paul Catholic Church in Richmond, MN for Arnold F. Statz, age 90, who died Friday at the Assumption Home in Cold Spring. Entombment will be in the parish cemetery.
Relatives and friends may call from 4:00 – 8:00 p.m. Tuesday evening at the Wenner Funeral Home, Richmond, MN. Visitation will continue 9:00 – 10:30 a.m. Wednesday morning at the funeral home.
Arnold was born on July 7, 1928 in Richmond, MN to Leonard and Anna (Vossen) Statz. He married Clara Kalthoff on May 28, 1952 in St. Martin Catholic Church. Arnold enjoyed fishing, hunting, playing cards, and spending time with his family. He was a member of Catholic Order of Foresters, Sts. Peter & Paul Golden Smiles, Catholic United Financial, Knights of Columbus, and Sts. Peter & Paul Parish.
Survivors include his wife, Clara; children, Ronald (Marlene) Statz, Mary Jane (Jim) Revermann, Larry (Rose Mueller) Statz, Dennis (Teri) Statz, Patricia (Kevin) Rausch, Darlene (Russ) Beireis, Gary (Wendy) Statz, Sandra (Myron) Roos; siblings, Agatha Kunstleben, Anna Schmitt; in-laws, Leander (Christine) Kalthoff, Clem (Jeanette) Kalthoff, Catherine (Lee) Wehseler, Ralph (Kathy) Kalthoff, Roman (Sharon) Kalthoff, Lillian Hagen; 20 grandchildren and 26 great-grandchildren.
He was preceded in death by his parents; infant daughter, Susan; siblings and in-laws, Leona (Henry) Funk, Thomas (Leona) Statz, Gregory (Dorothy) Statz, Claude Kunstleben, Melvin Schmitt, Mary Ann (Lawrence) Fleischacker, Stella Kalthoff and Phil Hagen.
Arrangements are with Wenner Funeral Home, Richmond.