Irvin A. Stang, age 91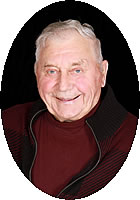 Richmond
June 21, 1927 – August 16, 2018
Mass of Christian Burial will be 11:00 a.m., Monday, August 20, 2018 at Sts. Peter & Paul Catholic Church in Richmond, MN for Irvin A. Stang, age 91, who died Thursday at Assumption Home in Cold Spring. Entombment will be in the parish cemetery.
Relatives and friends may call Sunday from 4:00 – 8:00 p.m. at the Wenner Funeral Home, Richmond, MN. Parish prayers will be at 4:00 p.m. Visitation will continue 9:00 – 10:30 a.m. Monday morning at the funeral home.
Irvin was born on June 21, 1927 in Rockville, MN to Joseph and Ida (Dietman) Stang. He married Luverne Libbesmeier on October 28, 1953 in St. Mary's Cathedral, St. Cloud, MN. They were blessed with 8 children. Irvin was a member of St. Peter and Paul Catholic Church and Cold Spring American Legion. Irvin and Luverne farmed in St. Nicholas for 40+ years. He loved spending time with his family and grandchildren. Irvin also enjoyed fishing, camping, playing cards (especially Euchre), and going back to the farm and cutting hay.
Survivors include his children, Sharon (Ken) Schmitz, Mike (Eileen) Stang, Debbie (Jerry) Rudolph, Lynn Stommes-Burg (Jim), Barb (Mel) Mueller, Kevin (Marci) Stang, Lisa (Terry) Peysar, Deanna (John) Klein; sisters, Iris Phillipi, Florence Weirens, and Ida (Gene) Rossman; 26 grandchildren and 35 great-grandchildren
He was preceded in death by his parents; wife, Luverne; sister, Viola Odegard; brothers, Louis Stang and Joseph Stang, Jr.; son-in-law, Vern Stommes; grandson, Brad Stang; and great-grandson, Dylan Schmitz.