Verena Schaefer, age 101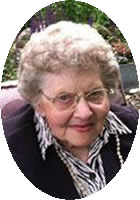 St. Martin
March 19, 1917 – July 4, 2018
Mass of Christian Burial will be 1:00 p.m. Monday, July 9, 2018 at the St. Martin Catholic Church in St. Martin, MN for Verena Schaefer, age 101, who died Wednesday, July 4th at Assumption Home in Cold Spring. Burial will be in the parish cemetery.
Relatives and friends may call from 9:30 – 12:30 p.m., Monday, July 9, 2018 at the St. Martin Parish Center in St. Martin. Arrangements are with Wenner Funeral Home, Richmond.
Verena was born in Farming, MN to Bernard and Theresa (Rolfes) Dingmann. She married Frank Schaefer on September 25, 1940 in the St. Martin Catholic Church in St. Martin. Frank died May 17, 1969. Verena then married Norbert Schaefer on April 4, 1970. Verena was a homemaker who enjoyed baking, crocheting, embroidery, quilting, playing cards, bowling, playing bingo, gardening, enjoying time with her children, grandchildren and great-grandchildren. She was a member of the St Martin Parish, Catholic United Financial, St. Anne's Christian Women and the Rosary Sodality.

Survivors include her children, Melvin (Doreen) Schaefer, Donnie (Janet) Schaefer, Louise (Art) Mohs, Jim (Mary) Schaefer, Richard (Betty) Schaefer, Charles (Cheryl) Schaefer; step-daughters, Mary (Don) Wenning, Alice Schaefer; sister, Rita Silvers; in-laws, Alice Schaefer, Mary Ann Lauer, Math Schaefer, Marcella Dingmann; 20 grandchildren, 9 step-grandchildren; 36 great-grandchildren; and 3 great-great-grandchildren.
She was preceded in death by her husbands, Frank Schaefer and, Norbert Schaefer; daughter, Mary Ann Schaefer; grandsons, Jason, Tim and John Schaefer; great-granddaughter, McKenzie Horn; siblings, Stella Brinkmann, Tony Dingmann, Edgar Dingmann and Jerome Dingmann.