Robert "Bob" Salzer, age 94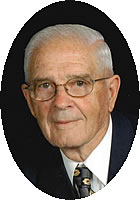 Cold Spring
February 29, 1924 – July 30, 2018
Mass of Christian Burial will be at 11:00 a.m. on Friday, August 3, 2018 at St. Boniface Catholic Church in Cold Spring, MN for Robert "Bob" Salzer age 94, who died Monday, July 30th, at Assumption Home in Cold Spring. Burial will be in the parish cemetery.
A gathering of family and friends will be from 4:00 – 8:00 p.m. on Thursday, August 2, 2018 at the Wenner Funeral Home in Cold Spring. Parish Prayers will be at 7:30 p.m. Visitation will continue Friday morning from 10:00 – 10:45 a.m. in the St. Boniface Church Narthex.
Robert was born on February 29, 1924 in Cold Spring, MN to Joseph and Anna (Fleischhacker) Salzer. He married Martha Drontle on September 27, 1955 at St. Boniface Catholic Church in Cold Spring, MN. Robert grew up on a farm just South of Cold Spring and was proud of his heritage and days spent working there, always sharing those stories with his grandchildren. He started working at the Cold Spring Brewery and later spent 35 years in the dairy business; he was a manager for 14 years at the Cold Spring Creamery before working at Land O' Lakes. His favorite job of all was his job after retirement at Thompsen Greenhouse which utilized his Master Gardener Certification. Robert had begun gardening at the age of 4 with the help of his mother, it was his lifelong passion. His other hobbies included playing cards and bowling. Robert loved to read and was always interested in learning new things. He was a kind and gentle man with quiet strength who will forever be missed. Robert was a lifelong member of St. Boniface Parish, the Catholic Order of Foresters and Knights of Columbus.
He is survived by his wife, Martha; children, Sandra (Steve) Norlin, Ann (Kerry) Dare, Timothy (Jeannine) Salzer; 5 grandchildren and 1 great-grandchild.
He was preceded in death by his parents; siblings, Albert, Alfred, Aloysius, Anthony, George, Leander, Leo, Marcus, Fred, Marie Duerr, Catherine Stein, S. Clarita, OSB and S. Marucs OSB.