Dennis Rooney, age 83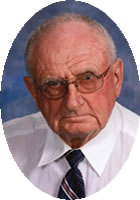 Mass of Christian Burial will be 11:00 a.m., Thursday, May 17, 2018 at Sts. Peter & Paul in Richmond, MN for Dennis Rooney, age 83, who died Monday at Assumption Home in Cold Spring. Burial will be in the parish cemetery.
Relatives and friends may call from 4:00 – 8:00 p.m., Wednesday, May 16 at the Wenner Funeral Home, Richmond, MN. Parish Prayers will be at 4:00 p.m. Followed by a Rosary with the Knights of Columbus. Visitation will continue from 9:00 – 10:30 a.m. Thursday morning at the funeral home.
Dennis was born in Sauk Centre, MN to Joseph and Alberta (Bisaillon) Rooney. He married Rosie Derichs on May 26, 1959. Dennis loved fishing, hunting, working in his shop and playing cards. He worked as a Lineman for Stearns Electric, retiring in 1997. Dennis enjoyed going to the casino and spending time with his family and grandkids. He was a member of the Knights of Columbus and Catholic United Financial.
Survivors include his wife, Rosie; children, Kevin, Kathy (Bill); siblings, Dewayne Rooney, MaryEllen (Everett) Ferrian; half-brother, Bill (Shirley) Pick; 5 grandchildren and 4 great-grandchildren.
He was preceded in death by his father, Jo Rooney; mother, Alberta Pick; step-father, Casper Pick.