Ralph P. Ressemann, age 91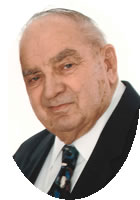 Richmond
August 3, 1927 – October 25, 2018
Mass of Christian Burial will be 11:00 a.m., Monday, October 29, 2018 at Sts. Peter & Paul Catholic Church in Richmond, MN for Ralph P. Ressemann, age 91, who died Thursday at the Assumption Home in Cold Spring. Burial will be in the parish cemetery.
Relatives and friends may call from 9:00 – 10:45 a.m. Monday morning at the Church.
Ralph was born on August 3, 1927 in Richmond, MN to Joseph and Rose (Fishbach) Ressemann. He served in the US Army in Germany after WWII. Ralph was married to Sally Ziegelmeier for 65 years and they were blessed with 3 children. He was a member of Sts. Peter and Paul Catholic Church, Catholic United Financial, Knights of Columbus, and the American Legion.
Survivors include his son, Bruce (Debbie Boyer); son-in-law, Mike Reinert; grandchildren, Arisa and Kolton Ressemann, and Kelton and Mikena Reinert; and great-grandchild, Vierna Johannes
He was preceded in death by his wife, Sally; children, Steve Ressemann, and Sue Reinert; siblings, Roman, Dorothy (Marlan) Weber, Irene (Edmond) Faber, Ida (Ernest) Weber, Bernetta (Harold) Neiwen, and Adella (Joseph) Theis.
Arrangements by Wenner Funeral Home.