Eleanor A. Lubitz, age 99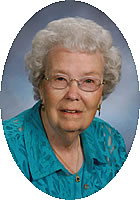 Cold Spring
May 9, 1919 – September 10, 2018
A memorial service will be 2:00 p.m., Friday, September 14, 2018 at Resurrection Lutheran Church in St. Joseph for Eleanor A. Lubitz, age 99, who died Monday at the St. Cloud Hospital. Inurnment will be in the North Star Cemetery, St. Cloud.
A gathering of relatives and friends will be one hour prior to the service at the church. Arrangements are with Wenner Funeral Home, Cold Spring.
Eleanor was born on May 9, 1919 in Truman, MN to Hans and Hannah (Nelson) Peterson. She married LaVern O. Lubitz on October 12, 1940 in Truman, MN. Eleanor enjoyed going to the lake with her family, playing cards, board games and making greeting cards with the Truman Legion Auxiliary. Above all she loved visiting with her siblings at family reunions.

Survivors include her children, Joan Schneider, Ken Lubitz, Cindy (Dennis) Klocker; sister, Faye Draper; brother, Doyle Peterson; grandchildren, Jeff (Mindy) Schneider, Lance (Bernice) Klocker, Laurie (Roger) Rudnicki, Dustin (Cheri) Butler, Lisa (fiancé, Bill) Schneider; 13 great-grandchildren; and 1 great-great-grandson.
She was preceded in death by her husband, LaVern; son-in-law, Lou Schneider; and 8 siblings.