Corinne C. Klemz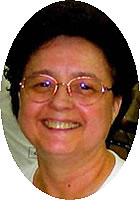 October 7, 1944 - August 5, 2018
After a brief stay under the professional and loving care of the folks at Highland View Health Care in Brockway, PA, Corinne C. Klemz passed away on Sunday, August 5, 2018.
On October 7, 1944, Corinne was born to her parents Alphonse and Margaret (Dullinger) Wolters in St. Cloud, MN. She grew up and lived in Minnesota for most of her life. A short while after her daughter, Elizabeth (Beth) moved to Pennsylvania, Corinne moved to Pennsylvania too.
Corinne especially loved to spend time with Beth (Gil) and her two grandsons. Corinne loved life and lived it to the fullest and even though we grieve not having her presence here on earth anymore we are grateful that her pain is now gone and she is reunited with her parents and Beth again for eternity.
Corinne was preceded in death by her parents, one brother and her daughter Beth. She is survived by two sisters, one brother, many loving nieces and nephews, her son-in-law Gil and her two precious grandsons Gilbert and Walter Barker.
It is suggested that any memorials be sent to the 'Angelman Syndrome Foundation' – 75 Executive Drive, Ste 327, Aurora, IL 60504 (800.432.6435) angelman.org.