Rose Hilsgen, age 101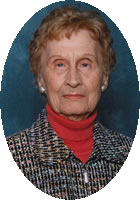 Cold Spring
March 30, 1917 – May 4, 2018
Mass of Christian Burial will be 2:00 p.m. Monday, May 14, 2018 at St. Boniface Catholic Church in Cold Spring, MN for Rose Hilsgen, who died Friday, May 4, at Assumption Home in Cold Spring. Burial will be in the Parish cemetery.
A gathering of family and friends will be from 12:30- 1:45 p.m. Monday in the St. Boniface Church Narthex.
Rose was born in Cold Spring, to Leonard and Catherine (Neis) Kellner. She married Nicholas Hilsgen and they were blessed with 2 children. Rose was a member of the St. Boniface Catholic Church. She sewed parachutes during World War II, and was a bookkeeper for her husband's carpet cleaning business. Rose was an excellent cook and baker, and her flowerbeds were admired by her family and neighbors. Rose loved the lake house and especially spending time with family and friends.
She is survived by her children; David (Delphine) Hilsgen and Paula Barthelemy; siblings, Imelda King, Dorothy Nathan and John "Jack" (Darlene) Kellner; grandchildren, David Jr, Ed, Dayna, Shannon, Hugh and Glen; great-grandchildren, Haley, Tara, Kate, Jane and Jennifer.
She was preceded in death by her husband, Nick; son-in-law, Rollie Barthelemy; siblings, Leonard Jr, Olive, Helen, Clara, Edward, Roman, Walter, Marcus, and Maryann.
Arrangements by Wenner Funeral Home.