Eugene A. "Notch" Hermanutz, age 85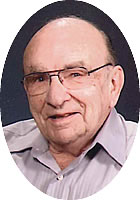 Rockville
December 23, 1932 – January 14, 2018
Mass of Christian Burial will be 11:00 a.m., Wednesday, Janurary 17, 2018 at Mary of the Immaculate Conception Church in Rockville, MN for Eugene A. "Notch" Hermanutz, age 85, who died Sunday at St. Cloud Hospital. Burial will be in the parish cemetery.
Relatives and friends may call from 4:00 p.m. – 8:00 p.m., Tuesday, January 16, 2018 at the Wenner Funeral Home in Cold Spring. Parish Prayers will be at 3:45 p.m. Visitation will continue from 9:00 a.m. to 10:30 a.m. prior to the service in the church.
Eugene "Notch" was born on December 23, 1932 in Cold Spring, MN to Albin and Elizabeth (Walz) Hermanutz. He married Mary Ann "Tudie" on June 23, 1957 in St. Boniface Catholic Church, Cold Spring. Eugene spent some time on the Ore Boats in Duluth, a season in Milwaukee, and worked as a "gandy dancer" for the railroad before settling down to take over his dad's business, Hermie's Bar, in Rockville. He enjoyed running the bar, basketball, baseball and the Vikings. Eugene found joy in telling stories and swapping tall tales with everyone. He enjoyed music and especially loved the sound of the organ in church. Eugene loved spending time with his grandkids and great-grandkids. He was a life-long Catholic and member of Mary of Immaculate Conception parish, Catholic Order of Forresters and Legion of Mary.

Survivors include his wife, Mary Ann "Tudie" (Schmit); children, Michael, Mary Su, (Brian) Wallraff, Gena (Les) Beack; grandchildren, Mary Elizabeth (Kyle) Kruger, Hana, (Arvind) Maier, Sebastian Wallraff, Roman Long, Elijah Wallraff, Preston Haffner, Anna Naylor, and 7 great-grandchildren with one on the way.
The family would like to especially thank the caring staff at the St. Cloud Hospital, Mary of Immaculate Conception prayer line, and friends for their care and prayer through Notch's illness.
Arrangements are with Wenner Funeral Home, Cold Spring.